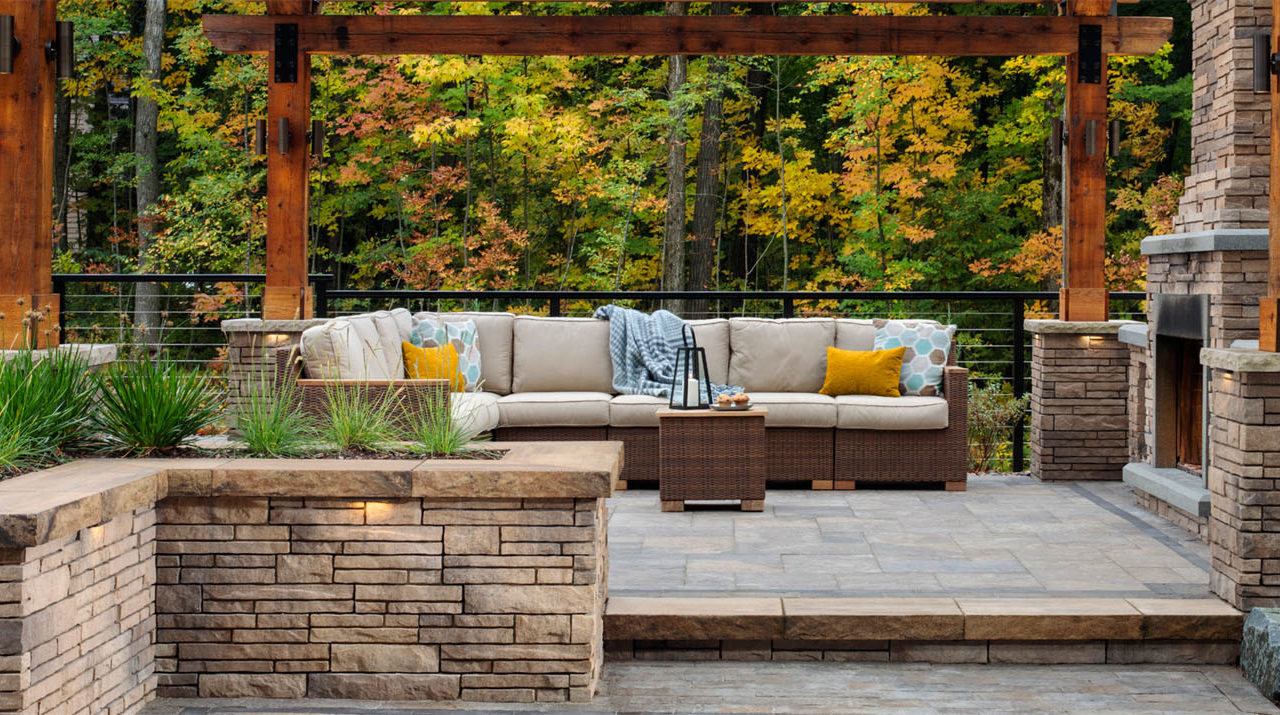 Fall Outdoor Living and Lighting
Fall is one of the best times of the year for outdoor living…the colors, the dancing leaves, and the unmistakable woodsy scent that wafts through the air as neighbors begin lighting fireplaces, fire pits and leaf piles. And let's not forget backyard tailgating and watching football in the outdoor living room! Some don't really think of fall as an outdoor living season, but more of a time to batten down the hatches and prepare for winter. However, the following tips can help you extend your outdoor living season and continue to get enjoyment from your outdoor spaces, even into winter.
Lighting Tips for Better Outdoor Living
One of the best aspects of fall outdoor living is the ambiance of a properly lit outdoor living space. We're not talking harsh overhead lights. We're talking about gently bathing the space with a soft, warm glow. To create this type of welcoming atmosphere, you need low-voltage lighting that comes from multiple light sources. That's why Belgard has partnered with Tru-Scapes to create outdoor lighting solutions that can be incorporated directly into hardscaped surfaces. The delicate radiance of Tru-Scapes paver lights and garden wall accent lights softens the look of hardscaped spaces to add both character and functionality. And the best part, there's a Bluetooth transformer that allows you to control the lights with your phone!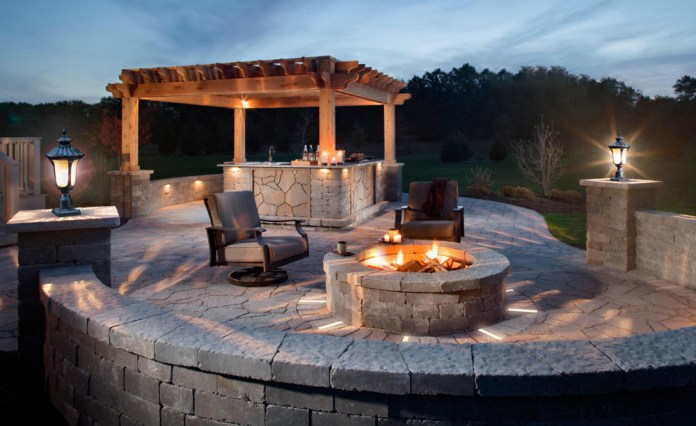 For better outdoor living, also sprinkle some of these lighting ideas here and there:
Shatterproof Edison string lights can add a festive quality to your lighting design. There are also solar-powered options. Just make sure that everything is weatherproof and rated for outdoor use.
Like hardscape lights, landscape lights not only add an elegant touch but also improve the safety of your outdoor space, especially along walkways. Garden accent lights add an ethereal quality, particularly when used to "uplight" trees.
Candles add a rustic touch, but be sure to keep safety in mind when using real candles. Flameless LED candles are a safer alternative, and you can buy them in convenient multi-pack quantities operated by a single remote or a timer.
Well-placed pendant lights add functionality to an outdoor kitchen or bar, without destroying the ambiance. They also reinforce the "outdoor room" concept.
Whether a fire bowl, fire pit or some other fire feature, there's nothing like the warm glow of a real fire to enhance the ambiance of an outdoor space.
Decorating for the Season
One of the fun aspects of decorating an outdoor living space is that you can be a little bolder than you might be with the typically more neutral pallet of an indoor space. But it's time to put away the bright summer colors and bring in some warmer hues. If your outdoor throw pillows are still in good shape, don't throw them out! Just use new pillow covers. Both Amazon and Etsy have a lot of options that are inexpensive enough to adjust your design theme seasonally — and maybe even add some "team colors" to the repertoire for those backyard tailgate gatherings. You can also enhance the fall look by sprinkling in seasonal flowers, gourds and rustic design elements like lanterns, wicker, or aged wood and metals.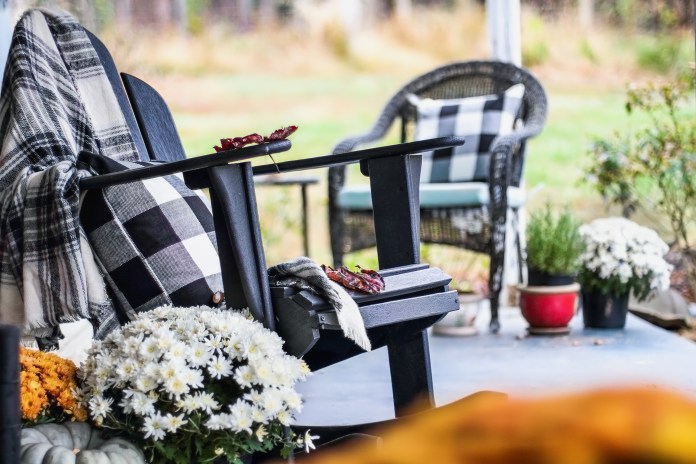 Keeping it Cozy
To get more enjoyment from your outdoor living spaces during the autumn months, both you and your guests will need a way to stay cozy and warm, particularly during those chillier moments in the evening or early morning. A fire pit, fireplace or fire table will not only offer a warm gathering spot, it adds a visual focal point to your space. For additional comfort — and to add to the cozy aesthetic — drape soft throw blankets on seat walls or the arms of furniture pieces. You may also want to purchase outdoor floor or tabletop heaters to add ambient heat throughout your entire outdoor living space. Adding retractable solar shades to a porch or pergola not only provides protection from the glaring sun in summer months, it can also help keep you warm in the winter by blocking the wind and helping to hold in any ambient warmth created by space heaters.
Maintenance Considerations
Autumn is also a good time to do a little maintenance on your outdoor living spaces to keep them beautiful and functional. If you have a pool, you may want to consider covering the pool to keep out leaves that will change the pH of the water and clog filters. However, a covered pool is not as attractive. So if you choose to keep it uncovered for the aesthetics, be sure to ramp up your weekly maintenance to adjust for the extra debris. You can also add some floating pool lights to add to evening ambiance.